Bake, Dress and Deliver
Will Buchanan, Rose Ortiz and Preston Riley's virtual shop helps those with a sweet tooth — let's face it, that's all of us — indulge responsibly with their Hustle & Health doughnuts, each of which are packed with essential vitamins and 10 grams of plant-based protein.
Buchanan, currently a wellness coach with a nutrition company, wasn't always into healthy eating, especially while working at The Fudgery, a Market Street chain serving, well, fudge, among other sweets.    
"I managed The Fudgery for two and a half years, so my background really started with kettle cooking — all things fudge, toffee and praline," Buchanan said. "That's where I developed my sweet tooth."
"I wasn't always healthy, and I can't entirely blame The Fudgery," Buchanan said. "Being in a place where everything was sweet and free, it was a hard environment to work in. I was a product of my work environment."
Buchanan said all that changed in 2016.
"I had an awakening, and I just made the decision that I wanted to make a change for that given New Year in 2016," he said.
Buchanan lost 11 pounds in one month, and he's adopted a healthy lifestyle ever since, later becoming a wellness instructor for a global nutrition company — he credits the products with helping him change his routine. 
In June, Buchanan decided he wanted to find a healthy way to satisfy his doughnut craving, eventually landing on a recipe that utilized plant-based protein made from soybeans.
"I got the recipe and just started making batches at home just for me," said Buchanan, who figured there would be a demand for healthy doughnuts. He was right.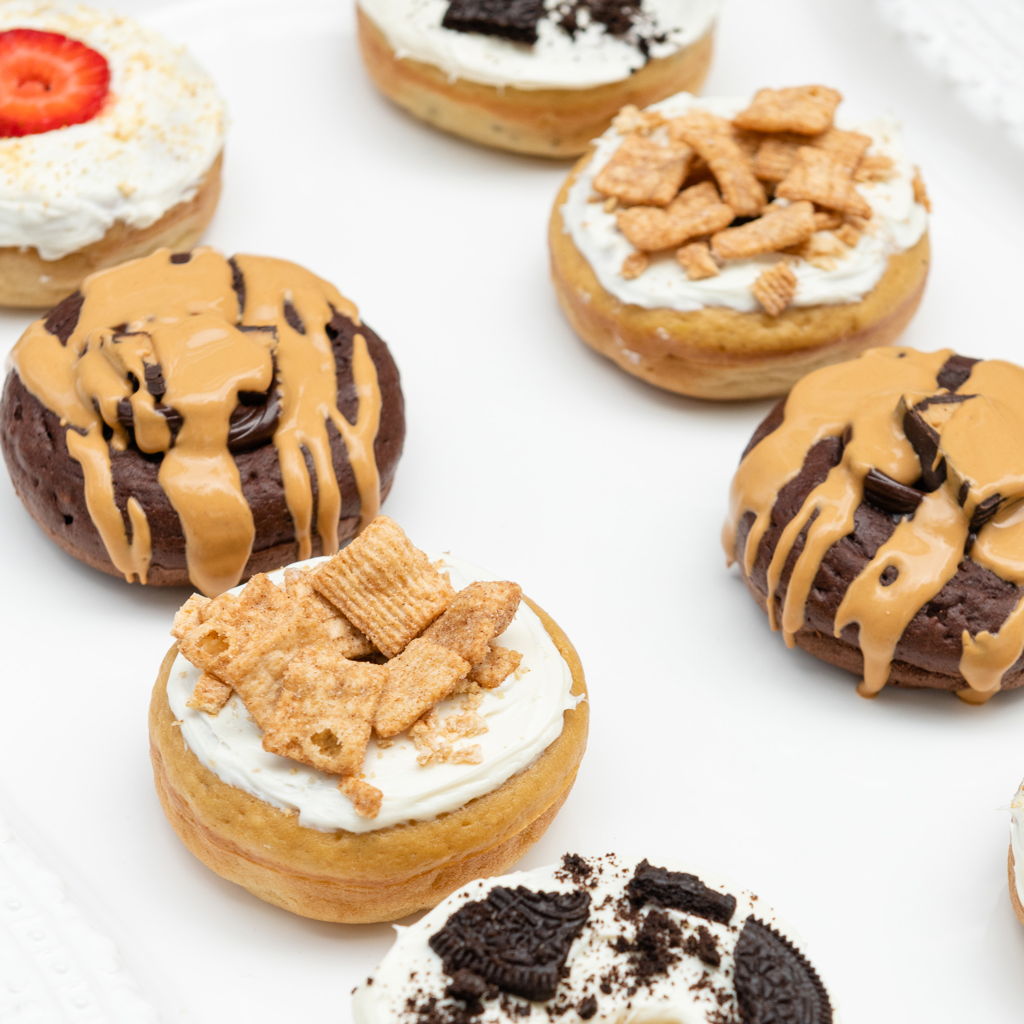 "I workout at a CrossFit gym downtown and I shared [the doughnuts] with them after a workout one day and they thought it was amazing," he said. "Everyone has a sweet tooth to some degree."
The positive reviews were enough for Buchanan to take the leap of faith, launching Hustle & Health with the help of Ortiz and Riley in July.
The trio started with three flavors — Cinnamon Toast Crunch, cookies and cream and strawberry cheesecake. The fourth flavor, dark chocolate peanut butter cup, was selected after a vote on the Hustle & Health Instagram page.
The doughnuts have an average of 145 calories, but that doesn't mean they're lacking in size or flavor. The icing and toppings are present — there's just less of them. Buchanan also utilizes substitutes like dehydrated peanut butter, which is used to make the icing for the peanut butter cup doughnut and has most of the oil and fat removed, leaving a product that's filled with fiber and protein.
To order a Hustle & Health doughnut, simply send a message on Instagram (@hustlenhealthchs), and they'll deliver them right to your doorstep. Purchase three doughnuts for $10, six for $20 or a dozen for $35.
Buchanan said all of the company's marketing to date has been through word of mouth and social media.
"I've had a big interest from pediatric nurses, physical therapists and real estate agents looking for closing gifts," he said. "The momentum has been so tremendous that all we can do right now is bake, dress and deliver."