Gale Restaurant was forced to close in March just two weeks after its grand opening on Meeting Street, but chef/owner Brett Chizinski's refined, globally inspired eatery has reopened for indoor and outdoor dining, serving a menu reliant on South Carolina ingredients. 
The pandemic has impacted restaurants immensely, especially new concepts like Chizinski's, his first solo venture after working at local establishments like Sorghum & Salt, Kwei Fei and most recently Basic Kitchen. BK owners Kate and Ben Towill's restaurant aesthetic resonated with the Connecticut-born chef, so when it was time to design Gale Restaurant's space, he reached out to his former bosses. 
"They consulted me from the beginning," Chizinski said. "I talked to them when I was trying to find a good architect and designer for this place. They took two hours out of their own time to consult me and were so helpful. They're some of the kindest and hardest-working people I've ever met." 
The Towills, who also own design company Basic Projects, helped him focus his vision for the airy space featuring ten or so tables, a bar and an open kitchen. With the space complete, Chizinski debuted Gale Restaurant at the end of February. 
"Literally, we opened two weeks before the official quarantine started," he said. "The big problem was being a brand new restaurant with the pandemic going on, people weren't looking to go out in general or try anything new."
This meant people also weren't ordering takeout from Gale when he tried to pivot the concept to fit the times, leading him to temporarily close the restaurant.
After a two-month hiatus, Chizinski reopened Gale Restaurant on Aug. 26, debuting a new menu featuring eclectic small plates like fried okra with Chinese sausage, pastas and pizzas cooked in the restaurant's high-powered gas oven. The chef won't put his cuisine in a box, but he admits that there is an Italian influence. 
"My first mentors own SRV in Boston, and they were just straight Italian so that was kind of the first concept I learned. I just fell in love with it," Chizinski said. "Having a 900 degree furnace, there are so many advantages. It's so beautiful."
Pizzas coming out of the oven are topped with inventive combinations like South Carolina corn and banana pepper crema or house-made sausage with goat cheese. As for the small plates, expect the unexpected.
"I'm Polish and the Thai shrimp salad and the curry are people's favorite dishes," Chizinski said. There's also local butterbean hummus with pita, charred nubia eggplant burrata and more.
Bar manager Jonathon Minor's equally expansive menu makes Gale Restaurant's bar a destination in and of itself. An industry vet who's spent time at The Darling Oyster Bar and Burwell's, Minor brings house-made bitters, syrups and new-era recipes to Gale. His earl gray tea-infused milk punch is the star of the "Let's Be Clear" bourbon and rum drink, and his "Lavender Town" cocktail combines house-made lavender syrup with gin.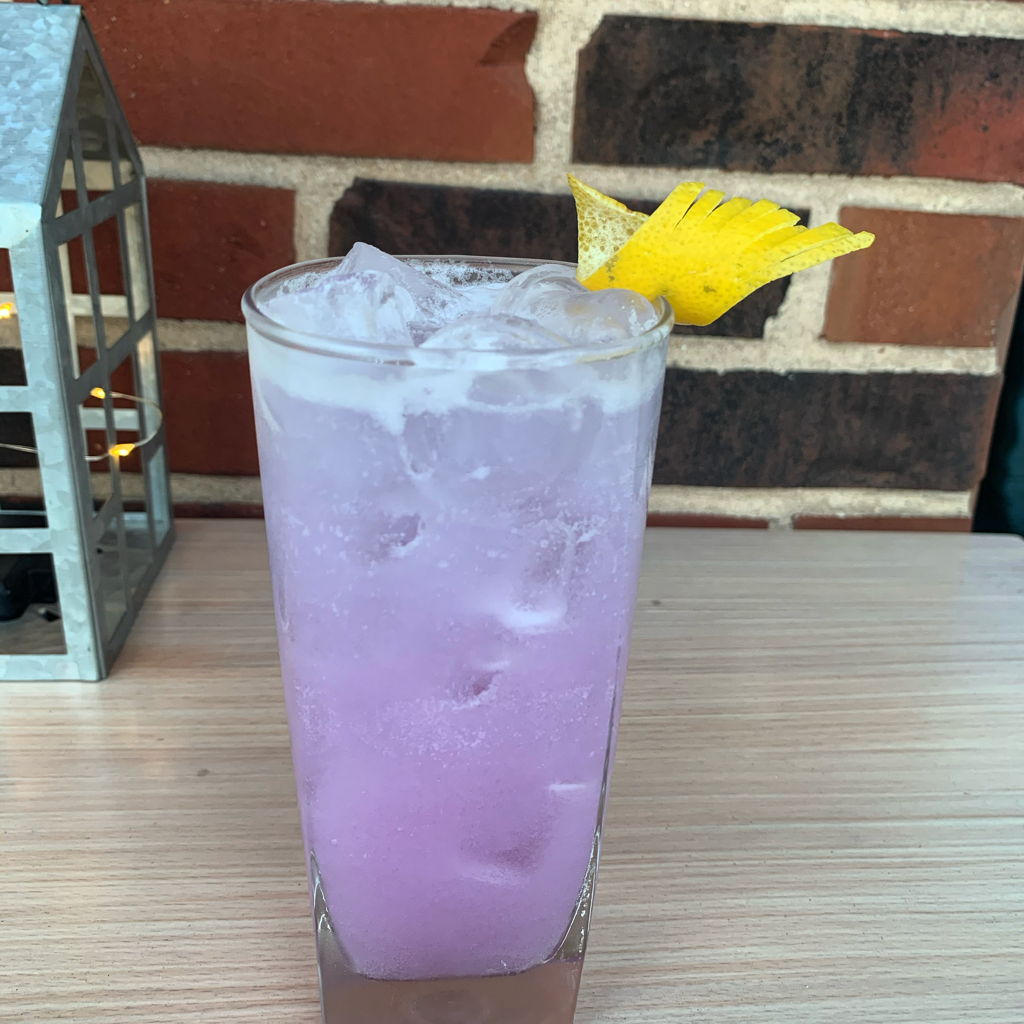 "Charleston is a very inspiring city, so I knew I had to step my game up," said Minor of his cocktail program. In addition to his creations, find a curated list of wines and local craft beers at Gale.
Since reopening, Gale Restaurant has added general manager Katie Daly (formerly of Le Farfalle, SAVI Cucina + Wine Bar and Tu) to help with daily operations. Chizinski hopes to make his mother, who was "the epitome of hospitality," proud to share her name with the Meeting St. restaurant. One thing is certain — local ingredients will be an essential part of the offering.
"GrowFood [Carolina] provides such a great infrastructure. It's basically like ordering from any commodity purveyor, but it's all local farmers," he said. "Especially now, I find it very important to support local — you have a conversation with a person when they're local."
Gale Restaurant is open for takeout, indoor and outdoor dining daily (closed Tuesdays) from 5-10 p.m. For more information and to make a reservation, visit galerestaurant.com.
Keep the City Paper free

We don't have a paywall. Each week's printed issue is free. We're local, independent and free. Let's keep it this way.

Please consider a donation of $100 to keep the City Paper free. Donate: chscp.us