Miguel Buencamino has 29,000 followers on his Holy City Handcraft Instagram account, but he's not your everyday influencer. He's getting behind the bar and mixing his own drinks, simultaneously teaching followers the ins and outs of at-home cocktail-making one beverage at a time.
Born in the Philippines, Buencamino has leveraged his expertise into work with national and local brands, crafting specialty cocktails with Four Roses bourbon, Harmless Harvest coconut water and Daps Breakfast & Imbibe. He's also assisting folks with cocktail menu development and private party bartending, making him a go-to source for best practices when hosting small gatherings. Seeing that 2020 has brought us all closer to home, we asked Buencamino for tips to help keep the cocktails flowing.
What drink are you loving right now?
"My favorite drink right now is amaro and soda water with a touch of lemon," said Buencamino, who explained that amaro is an Italian liqueur with a taste reminiscent of vermouth.
"Being in quarantine, consumption has increased, and I think a common trend that's happening right now is people are looking for a lower ABV, which I think is why Truly has taken off. Amaro and soda is 1) Super refreshing and 2) Low ABV."
Which amaro works best?
"I have two, Amaro Montenegro which is a little on the sweeter side. The other is Amaro Lucano, which is more on the bitter side. I especially like this as a night cap."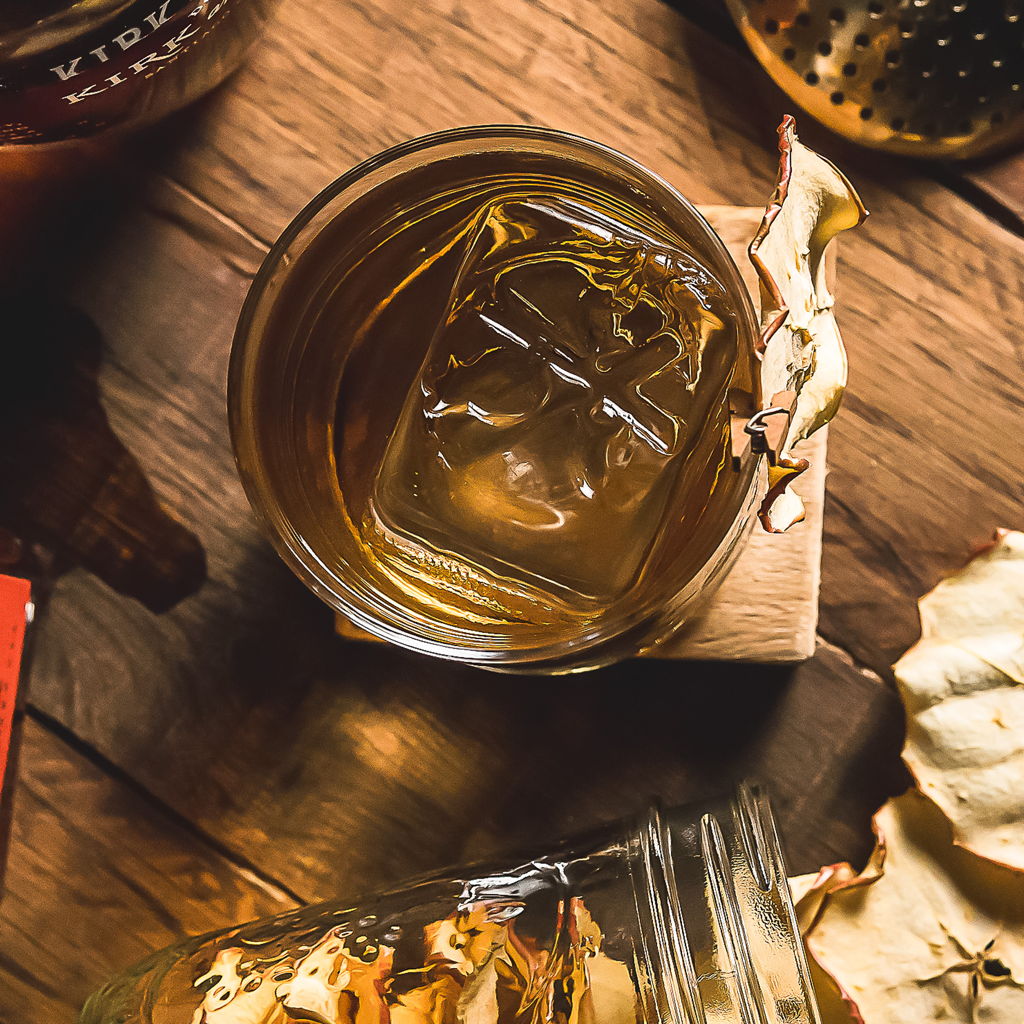 What's one cocktail-making technique that sounds more complicated than it is?
"At the very basic level, I think there's this conception that you need a cocktail shaker to make a cocktail. I prefer stirred cocktails, so having a mixing glass and bar spoon will open up a bunch of different cocktails that aren't shaken."
What about something more advanced?
"Something a little more advanced would be making clear ice at home, which literally involves freezing water in a cooler with the top off. You can get clear ice that way. It looks cool and it's functional."
(Visit holycityhandcraft.com for a tutorial explaining how to make clear ice.)
If you were to host a small dinner party, which cocktail would you serve?
"Since it's fall right now, I'd probably make two things that would be good for a crowd. For the old fashioned crowd, I make a pumpkin spice old fashioned using a homemade pumpkin spice tincture."
To make the tincture, soak ginger, clove, cinnamon, allspice and nutmeg in a jar with Everclear or any high-proof spirit for about a week, at which point you filter the liquid and put it in a dropper.
"The other cocktail I would do, which is more batchable, is an apple pie-inspired spritz." The rum and apple brandy-based drink — which he calls the BSL — is a stirred cocktail that's best served over a large cube of ice, Buencamino said.
When serving the drink at a dinner party, Buencamino said, "You're probably going to want it in one of those vessels with a spout on it. It's super fall flavored."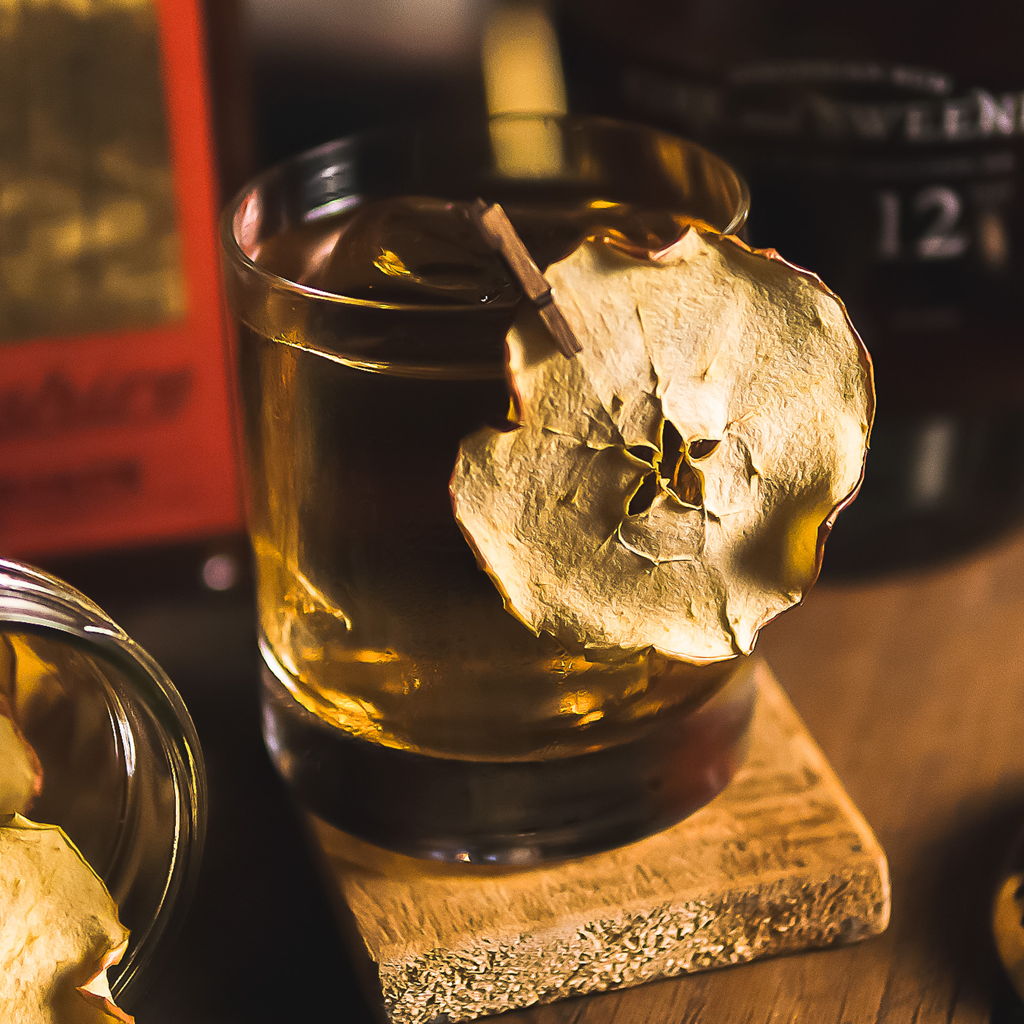 The BSL
1½ oz Apple Brandy
¾ oz Dominican Rum
½ oz Maple Syrup
5 Drops Pumpkin Spice Tincture
Pinch Bulls Bay Smoked Sea Salt
Dehydrated Honeycrisp Apple
Combine all ingredients in a mixing glass with ice. Stir for 15 seconds. Strain over a large crystal-clear ice cube in a rocks glass. Garnish with honeycrisp wheel.
Pumpkin Spice Tincture
Belle Isle 100 Proof Shine
2 Cinnamon sticks
4 Cloves
4 Allspice berries
2 Star Anise
2 Cinnamon sticks
1 Slice Fresh Ginger
Combine all ingredients in a mason jar and shake. Store in a cool/dry place for 2 weeks but shake every other 2 days. Strain into a dropper bottle or vessel of your choice. If you want more out of your spices, age for longer.