Charleston Distilling Co. will open the doors to its 10,000-square-foot Johns Island location on Monday and days later, Estuary Beans & Barley will debut its brewery/coffee roaster next door on Meek's Farm Road. Estuary will fill its more than 30 taps with IPAs, lagers, seltzers, nitro cold brew and more, all brewed in-house.
Charleston Distilling Co. announced it would move from King Street to Johns Island in 2019, investing $4.2 million in the property. Its new location will serve gin, vodka, bourbon and more Monday through Saturday, owner Steve Heilman said.
"We have two different stills here, and we're going to come up with some new products. We can do seven barrels a day, and [on King Street] we were doing three barrels a week," he said.
The move to Johns Island is two years in the making, and the new facility features a spacious bar and outdoor patio.
"We had the building next door — that's where our barrels were," said Heilman, who also owns the 3538 Meeks Farm Road property. "We were always renting trucks bringing barrels out, so it was just easier putting [the distillery] next door."
Heilman even found a tenant for the other half of the building — Estuary Beans & Barley, which opens Wednesday. Owner Scott Harrison is a part owner of Vail Brewing Company in Colorado, but the Charleston native has been looking for a place to open a brewery in the Lowcountry for nearly two years.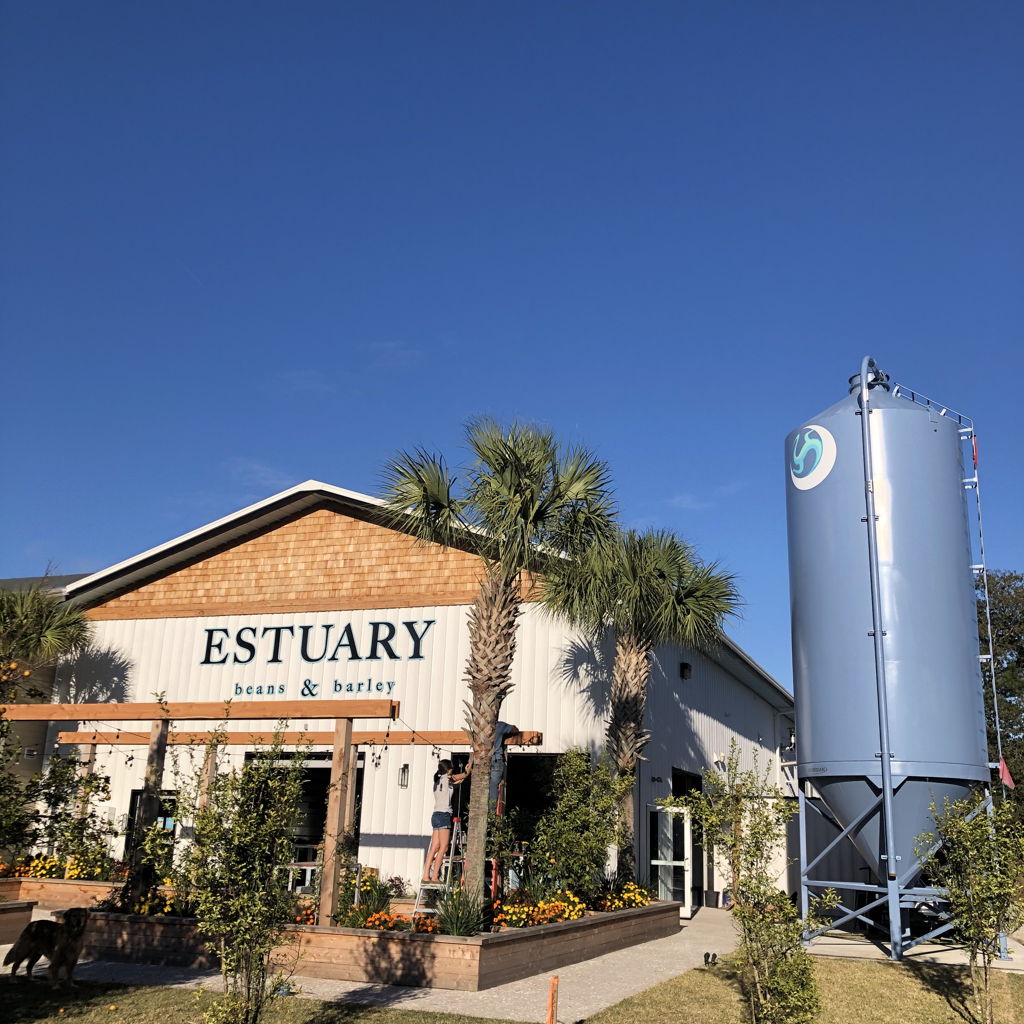 Charleston Distilling and Estuary will collaborate when possible — Heilman even pushed his opening back a few months while Harrison completed construction next door.
Harrison and head brewmaster Ronnie Fink are making Estuary an all day destination, serving coffee in the morning and beer at night.
"Our roaster's right upstairs — right now we have four or five different blends, and then we'll probably do some single origin as well," Fink said. "Every morning we'll be open for coffee, and everyone we hire will be a barista and a bartender."
The brewery will also serve wine and food from their brand new truck outside. Kinfolk — a Johns Island eatery specializing in Nashville hot chicken — helped Estuary get its food program off the ground, and moving forward the brewery will invite local pop-ups to host events in the truck, Fink said.
For beer, Estuary will serve all the classics, with a focus on IPAs.
"We want everyone who comes in here to find at least one or a couple beers that they like," Fink said. "Scott and I both really love IPAs, so it will be IPA driven. We also have a pilot system, so we'll try to do a bunch of special taps like smoothie beers, pastry stouts and seltzers."
Charleston Distilling Co. is open Monday through Friday from 3-7 p.m. and Saturday from 12-7 p.m. Estuary Beans & Barley will host a soft opening on Wednesday ahead of its official grand opening on Dec. 5. For more information, visit charlestondistillingco.com and estuarybeansandbarley.com.