Filipino pop-up Mansueta's will team up with all-vegan private chef service Atoon to serve a five course meal on Jan. 30, with a portion of proceeds going to Amor Healing Kitchen. Guests who reserve a spot for one of three seatings will find out the meal's location three days before the event, Mansueta's owner Nikko Cagalanan told the City Paper.
"I'm good friends with (Atoon chef and owner) Justin. I used to pop up at Second State, and he was the chef there," Cagalanan said. "He's taught me so much about foraging."
Cagalanan and Atoon chef and owner Justin Booher recently spent time foraging on Sullivan's Island in preparation for the all-vegan meal, which will feature five courses. There will be three seatings on Saturday, Jan. 30 at 5 p.m., 6:30 p.m. and 8 p.m.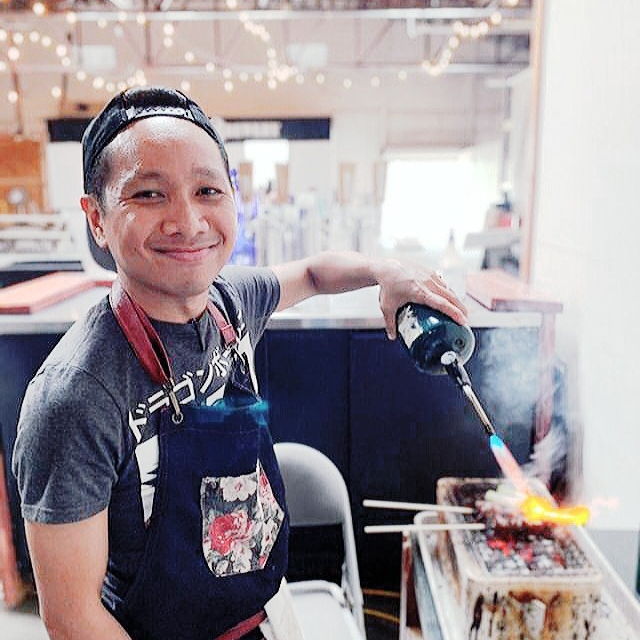 Booher runs the culinary program at Amor Healing Kitchen, a local nonprofit serving nutritious meals to folks facing serious health issues with the help of teen volunteers. The chef launched Atoon, which offers private dinners and catering, in January 2020 with the goal of introducing Charleston to the nuances of vegan cooking, he said.
"Atoon is my personal dinner and private chef service. I do private in-home cooking as well as meal plans," Booher said. "My focus is on presenting vegan cooking as a total meal option. It's very seldom that you can find a nicer dinner where you actually feel full."
Atoon's meals often include a theme — for a recent dinner, Booher honored Prince, who was a vegan, by pairing each dish with one of his songs. The theme for Atoon's collaborative meal with Mansueta's will be Filipino favorites with a vegan twist, and the chefs will donate 10% of proceeds to Amor Healing Kitchen.
Fans of Mansueta's who can't attend the vegan dinner can catch Cagalanan the following night at Pink Cactus, where he'll will team up with owner Brooke Warden to serve lumpia, chile rellenos, margaritas and more. Tickets for the three course meal can be purchased online.
For more information on Mansueta's collaborative dinner with Atoon, visit atoonfood.com.