Renowned chef and television personality Vivian Howard, who rose to fame after the 2013 debut of her PBS show, A Chef's Life, will open her new restaurant Lenoir on Wednesday, April 14. Located at 68 Wentworth St. in the Renaissance Charleston Hotel, Lenoir will serve "modern Southern food that really speaks to the agricultural rural South," Howard said.
"That's really a perspective that's not represented in Charleston right now, so we're going to do things that speak to the place that I grew up," she said.
Lenoir is Howard's fourth restaurant and second in Charleston — in August, she opened cafe Handy & Hot, which started as an online-only small-batch bakery in eastern North Carolina and is also located in the Renaissance Hotel.
Named after Howard's home county in Eastern North Carolina, Lenoir has been two years in the making, Howard said, after the pandemic delayed its opening. Howard and executive chef Tyson Detzler's menu will feature Southern-inspired items like butterbean agnolotti with country ham broth, smoked blueberry chicken wings, a "K-Town" patty melt and more, with dishes highlighting local farms and purveyors. For dessert, look for a 10-layer chocolate caramel cake that's served at Howard's flagship restaurant Chef & the Farmer, located in Kinston, N.C.
Howard created Lenoir's menu in tandem with Detzler, who spent time at the Obstinate Daughter before heading to North Carolina, where he worked at Chef & the Farmer and Benchwarmers Bagels in Raleigh.
"He's really kind of one of these student chefs," said Howard, adding that Detzler worked at the bagel shop because of his culinary curiosity. "It's been really exciting to kind of riff with him."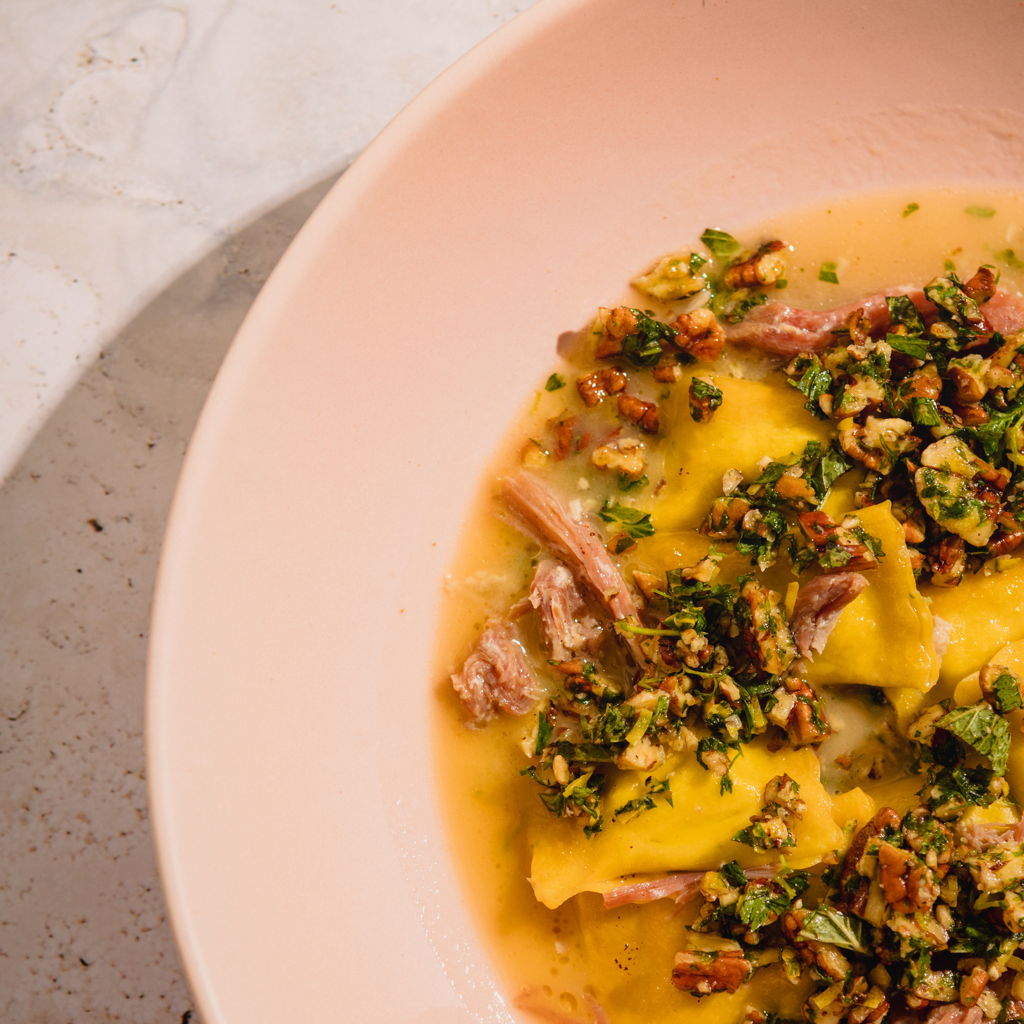 Some of those riffs are reimagined Southern classics you'll find on Lenoir's menu. Cornmeal-crusted catfish is served with peanut sauce and collard greens are braised in a country ham dashi, for instance.
Lenoir's new digs have been home to several restaurants over the last decade, including 1KEPT, Barony Tavern and Wentworth Grill. Aware of the space's high turnover rate, Howard said she thinks "this is going to be the concept that takes for this place," in part because of local architect David Thompson's interior revamp.
"It's really a complete overhaul — the only thing that's the same is the floor," Howard said. "We've got a circular bar in the middle of the room, and there are a lot of very personal touches."
Those personal touches are highlighted by decorations representative of the restaurant's namesake. There's a wall made of tobacco sticks because "Lenoir County was all about tobacco culture when I was growing up," Howard said, and the walls are adorned with pieces of reclaimed farm equipment and artwork from artist Ben Knight, Howard's husband.
The dining room seats 50 patrons, and a connected covered outdoor patio provides room for al fresco dining. According to Howard, Lenoir offers her the chance to share the cuisine she grew up with in a welcoming yet modern environment.
"We started working on this really about two years ago. We thought that we would open last June, so it's been a long time in the making," she said. "I'm grateful that we were able to wait."
Lenoir is open for dinner Wednesday through Saturday from 5-9:30 p.m., and Howard plans to extend dinner hours and launch weekend brunch later this spring. For more information, visit dineatlenoir.com.