Originally published in Charleston Currents.
With rapid-fire questions, Georgia nurse Leonza Hudson wanted to know where the enslaved people at Magnolia Plantation and Gardens attended church and cook and were the children taught to read.
He and his wife, pediatrician Tamara New-Hudson, directed their questions to Joseph McGill as he led the couple and eight others through four former slave dwellings open daily during Magnolia's Slavery to Freedom Tour.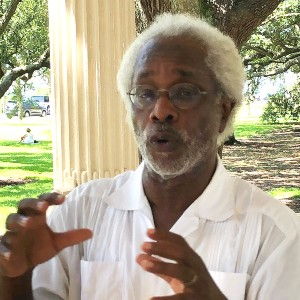 The African-American couple, who lives in Decatur, Ga., said they were drawn to Charleston for its history. A Google search steered them specifically to Magnolia for a lesson on slavery. They said the topic was not taught in the all-white schools he attended in Michigan and at her school in Maine.
The time had come, they said, to visit a plantation to learn about enslavement, a topic of discussion across the nation in the wake of recent police shootings of Black people that has sparked an awakening of racial injustices in America.
McGill said the Georgia couple is among an increasing number of Black people he has seen this spring and summer on Magnolia's Slavery to Freedom Tour. He added that attendance is up among white visitors, too.
"As the one giving this tour, it makes me happy to see that after all that is going on in this country around police shootings and racial issues, people are more interested in the struggles of African Americans," McGill said. Some Black people are thrilled the 45-minute tour is being offered. Others come with the expectation they'll hear a sugar-coated version of slavery. For most of the time Magnolia has offered the tour, McGill said, it was the least attended. Now its popularity has grown.
Magnolia does not compile admission data based on demographic profiles of guests. Martina Remington, Magnolia's ticket kiosk manager, said she also has noticed a higher percentage of African-American visitors. She attributes the perceived increased to favorable word-of-mouth comments about the Slavery to Freedom Tour.
The upward trend of African-American visitors also has been noticed at the Slave Mart Museum on Chalmers Street downtown. It is a trend museum operations manager Ista D. Clarke has seen for the past five years and even more so in recent months. The increase, he said, is the result of the political climate that's spurred an interest in African-American historic sites. The growing attendance includes multi-generational black families from around the country, he explained.
Just as Leonza Hudson and Tamara New-Hudson came to Magnolia with questions about the institution of slavery, the parents of young children also come seeking answers. Slavery is of specific importance to special education teacher Lisa Williams of West Ashley. Williams, who is white, has three sons, ages 6, 7 and 9. She grew up in Philadelphia and met her husband, an African-American man from Charleston, when he enrolled at a university in Philadelphia, where the children were born. A recent trip to Magnolia was not her first time at the gardens. She and her family have visited before, but they've not taken the Slavery to Freedom Tour.
"We like coming to places like this because we like talking about the history of it," she said, sitting with her boys on a bench at the entrance to the gardens. "It is a controversial place to come for some people, but for us it is real living history and history can't be erased even at a time when the nation is pretty divided."
Amari Williams, 9, said he heard about slavery in school, but he gets more of that history from books. "I like history and learning about events that are important," he boasted. His mother said she is concerned about raising three Black boys in this culture. Together they are reading, Stamped: Racism, Antiracism, and You, which examines the history of American racism. Williams added she allows her sons to ask questions about police shootings and the pandemic. As a concerned mother of three black boys, she said, "We don't try to sugar-coat anything. We give them knowledge so they make their own educated opinion."
That's the direct approach French-born Ludivine Renaud and Russian-born Marina Fridmanovich also took with the four children they recently brought to Magnolia when one of them asked: "What's a plantation?" Renaud said she told the children, ages, 2 to 10, "A plantation used to be a farm with Black slaves working free and it was not good. Later on, the plantation owner had to free them and the plantation became a place with beautiful flowers and a petting zoo."
Before each of them came to this country about 20 years ago, they weren't that familiar with the Black struggle in America. Renaud, who holds a doctorate degree in molecular biology, said she is now becoming more familiar with the nation's civil rights history. She also watches more films about Black life. She counters the argument that plantations ought to be destroyed with "there is a lot of Black family history at plantations that need to be preserved to learn the lessons from that history."
As the children chased one another around Magnolia's playground, Renaud said she is waiting for change in America so her five-year-old daughter, Roxana, who has Asian, African and French heritage, won't be singled out because of her appearance. If not, she's willing to leave her James Island home to raise her daughter in another country. "Maybe we won't have to deal with it," she said. "Maybe people will forget she's a quarter black because she looks Asian."
Fridmancovich, a Summerville Realtor, also wonders what life will be like in America for her 2-year-old daughter Zoey, whose father is from India. "We try to raise her to understand what is right or wrong and to be open-minded."
A cultural awakening to the unique history and issues that impact Black people is spreading across the United States since the 2016 opening of the National Museum of African American History and Culture on the National Mall in Washington, D.C., Brenda Tindal said. She is the director of education and engagement at the International African American Museum in Charleston. It is due to open in early 2022.
Historically, museums have been regarded as "colonial spaces" where Black life has been interpreted through a Eurocentric lens. Museums are increasingly urged to diversify the narratives they convey to include more African American history and culture, she said. "That has not always been the case within the American educational and cultural mainstream," she added.
"I am not surprised to see a rise in Black visitation to sites that capture Black history and culture," she said. There is an appetite for historical context and understanding within this period of social and political unrest. "The more we tell our stories the more we create space for our stories to be part of the larger global narrative."
Herb Frazier is a Charleston-based writer. He's the former public relations director at Magnolia Plantation and Gardens.